Avinash Kaushik's article on the best social media metrics may have been written a little more than a year ago, but it still resonates with relevance even against the backdrop of fast-changing developments in social media analytics. He poses an approach that focuses on using four metrics that are platform independent. I think even smaller businesses and start-ups can benefit greatly from adopting this approach to social media analytics, whether they are at a beginner's phase, or if they wish to review their current social media analytics framework. Avinash posits:
It's not about how many metrics we can measure, but which ones matter to advancing your business goals. [My own input: Think of the current state of your business or the current goal you're focusing on, in order to determine the right / most relevant kind of metrics to use.]
We want to measure success by using metrics that matter for one simple reason: we want to know if our brand/organisation is participating in social networks in an optimal fashion. [My own input: This leads you to a "so-what?" situation. If your participation isn't optimal, what should change? If it is, how can you sustain it and even improve your social media interactions?]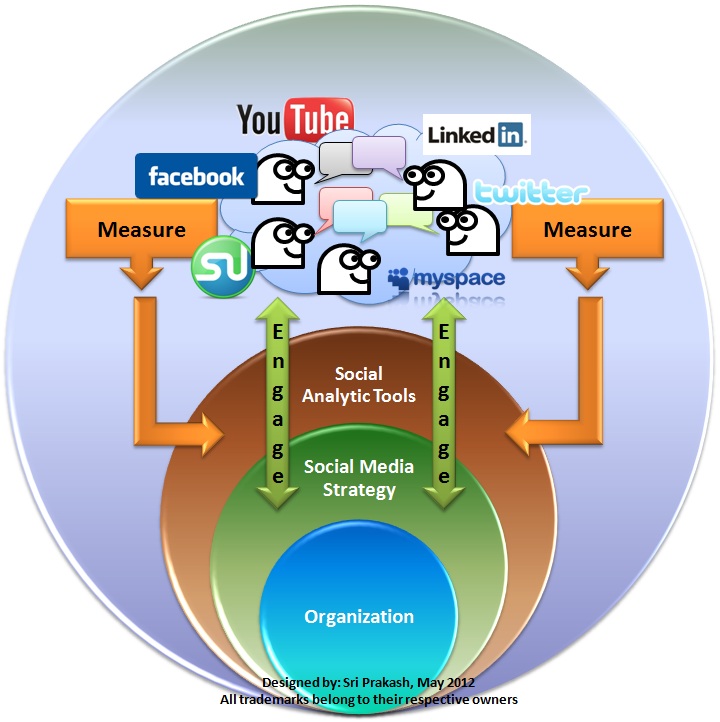 Social media analytics is complex in the sense that it cuts across the different aspects of your business and organisation, and is intricately tied to strategy. That's why it's even more important to have a good grasp of the fundamentals of your analytics framework. Try to think of ways to measure success in social media independent of the platform. This means focusing not on the number of likes per se, but translating them into questions that can give birth to that beloved goal we all want to reach in this age of conversations: actionable insights. For example, asking which topics or types of content garner the most likes, how to create more of such content, and checking your organisational capacity for such an activity. This kind of thinking will help us send out clear signals that cut through the noise, and create conversations that take root and grow. Metrics that matter According to Avinash, the metrics that matter are:
1.  Conversion rate: number of comments or replies per post. As with any metric, providing the context for analysis is crucial. Conversion rate should be partnered with meaningful conversations. If you don't produce relevant content or don't build relationships with your audience, don't be surprised to get low conversion rates. In a very basic sense, this means asking yourself if the tweet/post you shared is relevant to the brand and its goals. Or were you just making provocative statements that lead to more replies? You can increase the conversion rate in this manner, but does it mean that you actually advanced a business goal? Obviously not.
2. Amplification rate:  The rate at which your followers/fans take your content and share it with their network. This is different per social network. Measure what content type cause amplification. Can time, topic and location affect it?
3. Applause rate: What content the users like. What do they appreciate? This is different per social network.
4. Economic value: quantifying the business impact of your social media initiatives.
The first three metrics can easily be tracked and most likely already available as a built-in functionality in social networks. These metrics will be able to give us insights on how we use social networks and how we engage with our audience. However, to determine the bottom-line impact of social, we need to calculate for the 4th metric – economic value. To quantify the economic value of social, you have to take a step back and first identify the micro- and macro conversions of your website, and the role social media plays in achieving these goals. Social media might not always play a direct or huge role in macro-conversions but would largely impact micro-conversions. For example, calculating for the value per visitor referred by social networks on interactions such as downloading an infographic, signing up for a newsletter, researching, etc. For a detailed explanation on micro- and macro-conversions and economic value, no one but Avinash can lay them out as clearly and succinctly: http://www.kaushik.net/avinash/excellent-analytics-tip-13-measure-macro-and-micro-conversions/ http://www.kaushik.net/avinash/web-analytics-tips-identify-website-goal-values/