I wrote about the case of Senator Vicente Sotto of the Philippines and the criticism he got (and is receiving) from Filipino netizens. I said that though the issue snowballed in social media networks, the real "issue is not just about blogging, or copyright or giving proper attribution. This goes beyond social media. It's about dignifying the process of legislation by making sure your research methods are sound, your facts correct,  and your analysis genuinely valuable and actionable."
Today, I read in the news that the lesson learned from this experience is that the Senate should "pass a bill setting the parameters on blogging." How it got to this point seems surreal to me.  When you look back at the the events that led to this, this is how the decision triage must have looked like.
UPDATE – 7 Sept. 2012: I updated the flowchart to cover the latest developments (Sotto accused of copying new speech from Kennedy, and Sotto telling critics to beware of the Cybercrime Law.)
UPDATE – 19 Sept. 2012:  A man of his word – that's Senator Sotto. He inserted a libel clause in the Cybercrime Law, specifically targeting social media use. He wants to make people accountable for the content they produce and interact with online, but he has done it without really understanding the nature of the Internet, and without conducting a congressional public hearing. Goodbye satire, hello dark ages… The flowchart has been modified to reflect these changes. (Hope he won't charge me with libel.)
UPDATE – 14 Nov. 2012:  Filipino bloggers and professors have formally filed a complaint to the Senate Committee on Ethics and Privileges against Senator Sotto for alleged plagiarism in his speeches. A few days earlier, three US bloggers confirmed they were set to file a similar complaint against Sotto for plagiarising their work in his speech against the Reproductive Health Bill. Also set to file a complaint is Kerry Kennedy, daughter of the late US senator Robert F. Kennedy. She rebuked Sotto's  "… unethical, unsanctioned theft of Robert Kennedy's intellectual property and the intellectual property of all those whose work he has plagiarized."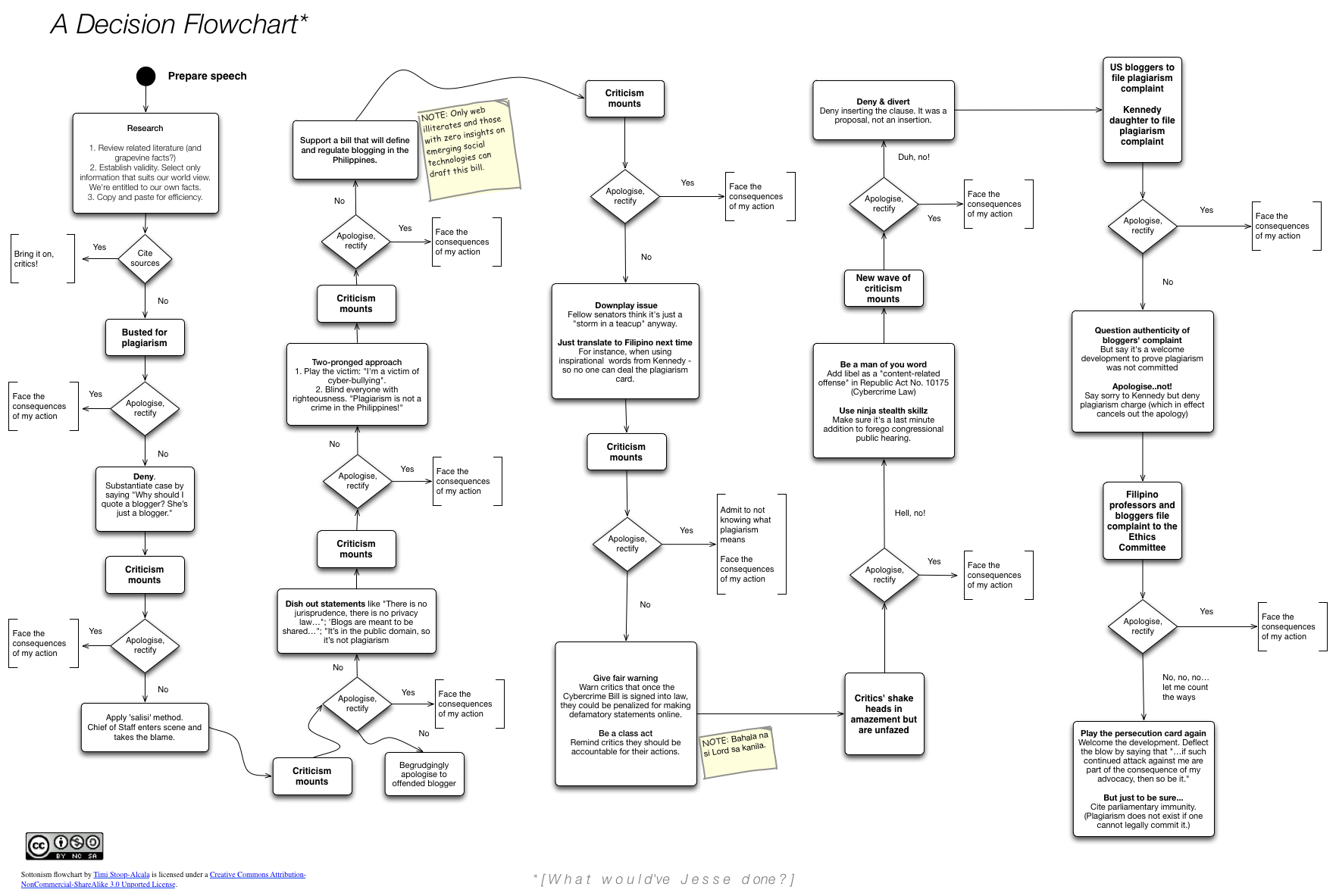 Sottonism flowchart by Timi Stoop-Alcala is licensed under a Creative Commons Attribution-NonCommercial-ShareAlike 3.0 Unported License.