Note: I am no augmented/mixed realities expert, but I have a big crush on it. The musings in this post were born in a train to Amsterdam, as I looked out the endless fields speckled by some contented cows lazing in the sun. Be warned: this post contains more questions than answers.
===========
This last month saw AR (augmented reality) news proliferating my feeds. Some of the most popular ones:
And the buzz goes on. Interest in AR has spiked this year in the Netherlands and across all regons.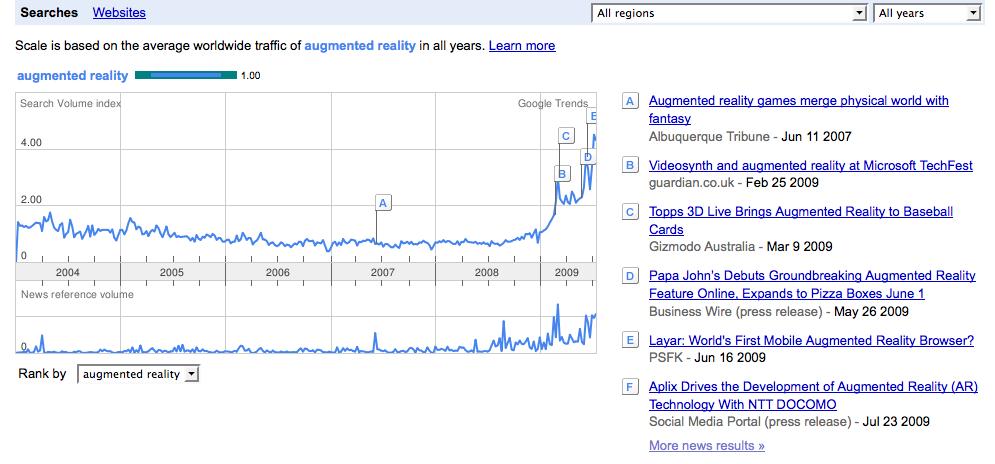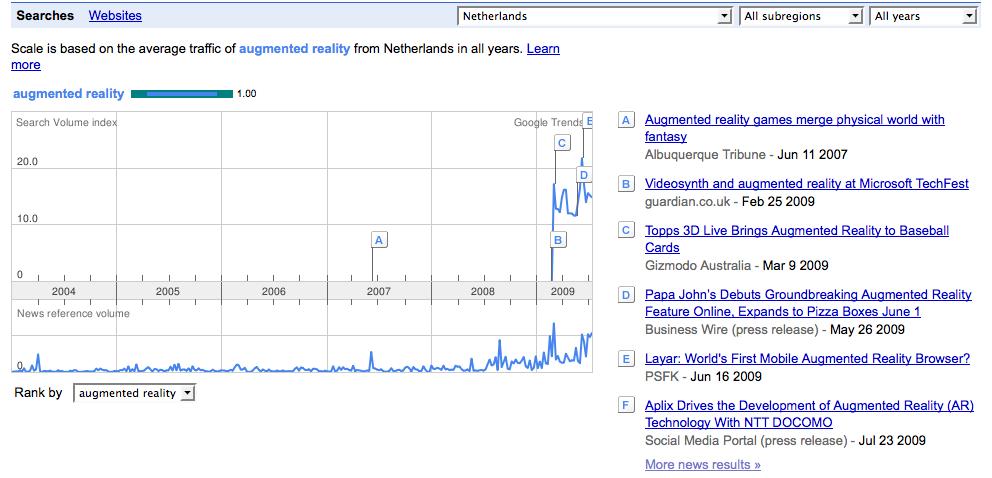 Being the sci-fi and lover of stories that I am makes me excited with all the advancements in augmented reality we are seeing right now. I already get giddy thinking that it will perhaps change knowledge in the same way the telescope impacted our ecosystem of learning. The telescope enabled us to view things from a distance; with augmented reality we gain access to a multitude of information within and around us.
I am also deeply fascinated by the sophistication of the medium and its impact on the creation of user experience, interaction and different forms of narratives. I wonder in which ways it will change perspectives.
Or will it?
We're living in a time where the most prosperous societies are immersed in digital visual culture. While this immersion has given birth to new ways of seeing the world, it has also been largely transformed into what theorist and filmmaker Guy Debord would refer to as the 'fascination for the spectacle' that is constantly being fuelled by a commodified view of the world.
Visual seductions reinforce the public's 'pleasure in spectatorship'. The dominance of the visual dimension makes us more likely to see — and look — at the appearance of things, not at their underlying relationships.
If this is one significant context wherein developments in AR take root, I wonder how it will then affect our social and signifying practices. With which eyes will we view our environment, how will we assign meaning and how will we define our experiences of the world? Will augmented reality also augment our understanding of worldviews? Will it enrich meanings in our lives?
If the world becomes our interface, and yet the reality it represents is actually illusory, then what is augmented reality actually resonating, mediating and recreating?
Allow me to wax poetic: unaided and un-augmented by augmented (and virtual) reality technologies and digital technology in general, will we still be able to look deeper in the heart of a flower, tremble at the abyss of poverty, and glimpse the history of a raindrop?
——
Related posts I've written on visual culture:
The spectacular commodification of Che
Gollum: poster-boy for the next generation
The Realism Chronicles: The hero, the tiger and the matrix
Gulf Wars
The Nightwatch
My Magic Library